#MexicanMonday – Nachos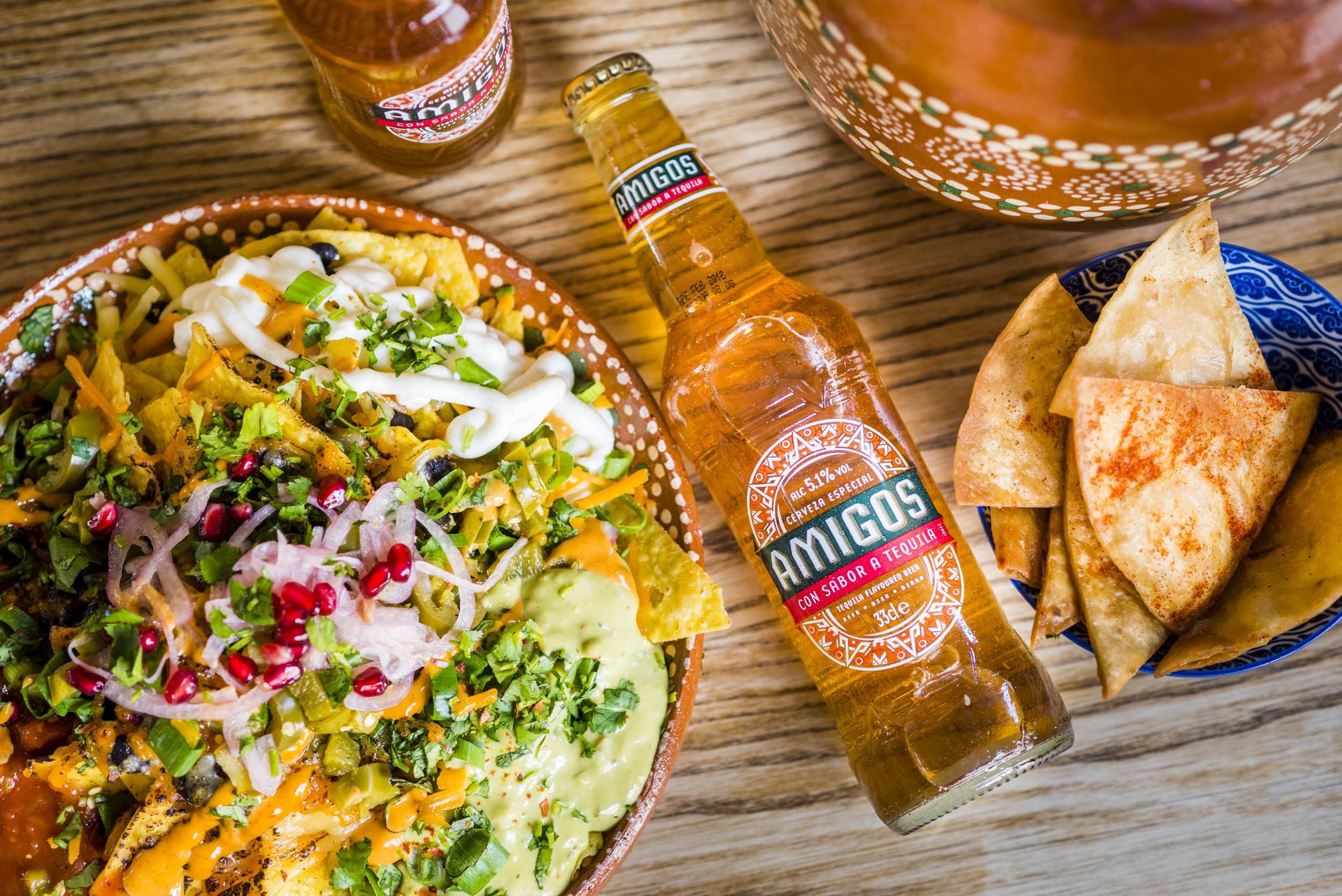 Nachos are simple to make but add a few more ingredients and a bit of time and they'll instantly become the best dish you've ever made at home. Here at Amigos Tequila Beer we believe that fully loaded is the only way to do it when it comes to topping Nachos.
Ingredients
2 mixed-colour peppers
1 fresh red chilli
3 ripe tomatoes , on the vine
6 spring onions
1 bunch of fresh coriander
2 limes
extra virgin olive oil
1 bag of lightly salted tortilla chips
1/2 teaspoon cumin seeds
1 teaspoon chilli powder
Chipotle Tabasco sauce
1 x 400g tin of black beans
1 ripe avocado
As much cheese as you can handle – cheddar, Mexicana, feta are all good – or a mix of all three!
Method
Pre-heat the oven on to 180ºC/350ºF/gas 4.
Place a griddle pan over a high heat and cook the whole peppers, chilli, tomatoes and trimmed spring onions until soft and charred.
Put the peppers and chilli in a bowl, cover with clingfilm and set aside for 5 minutes.
Dice the tomatoes and spring onions, then add to another bowl. Dice the peppers and chillies really fine, then add to the tomatoes and spring onions.
Add in a few coriander leaves, season, then mix in a good squeeze of lime juice and a drizzle of oil. Wipe the griddle pan and return to the heat.
Place a large frying pan over a high heat and toast the cumin seeds for a few seconds. Add the Tabasco sauce, chilli powder and beans and cook for a few minutes, or until thick, stirring occasionally.
Peel, destone and slice the avocado into wedges, then drizzle with the remaining lime juice.
Arrange the tortilla chips in a bowl. Top with the beans, salsa, and cheese, bake in the over until the cheese is golden and bubbling.
Top with avocado and coriander and serve.