Street Art Showcase: Bareface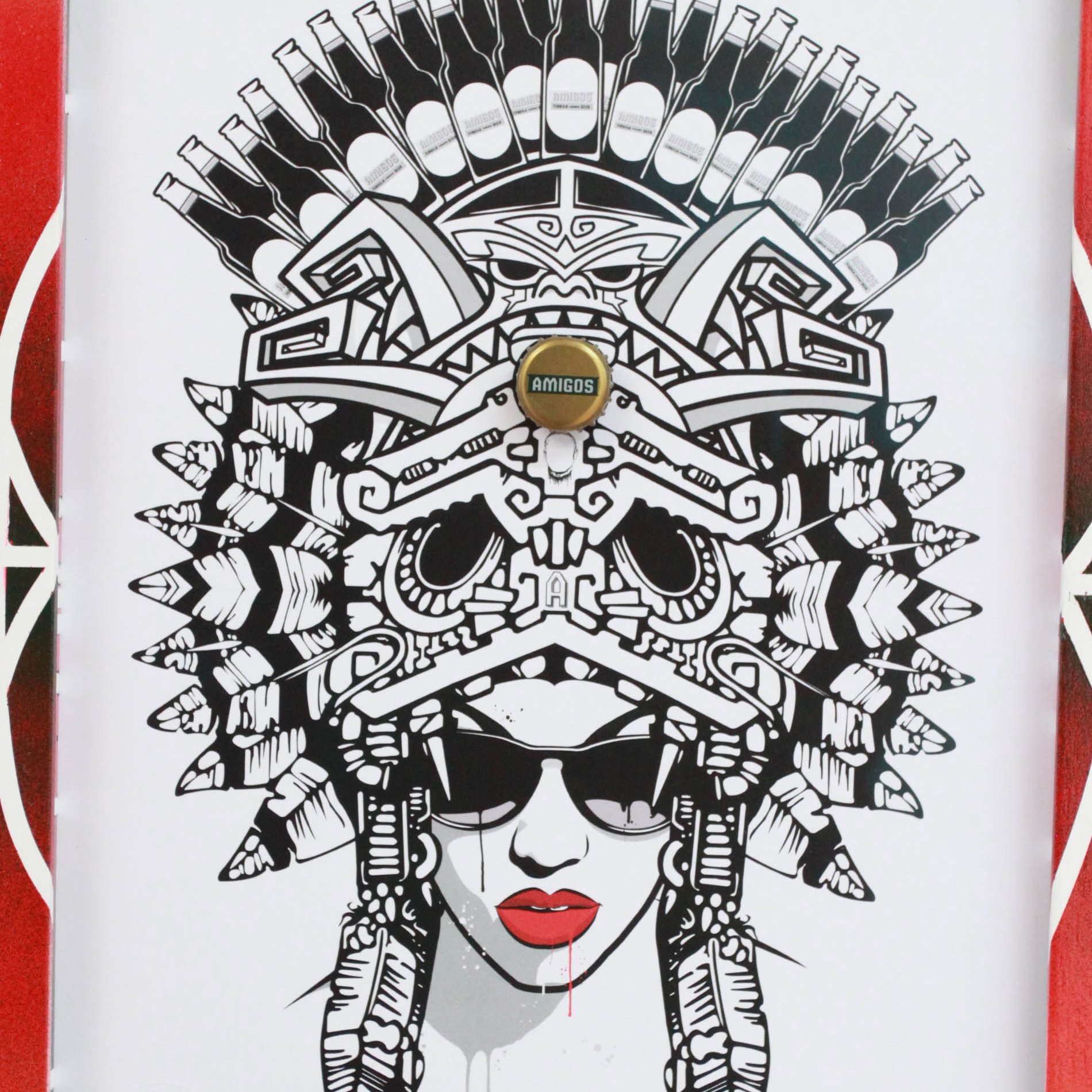 A few weeks ago Amigos Tequila Beer had the pleasure of sponsoring BAREFACE, a talented artist from London with some pretty creative skills in his most recent show LAIDBARE. Bareface has a major passion and love for pop art and pop culture, merging this with street art which has defined his style which he dubs "Street Pop". Known for passing his eye catching self-portrait around London this earned himself a place in the Global Graffiti and Street Art Collective: The Secret Society of Super Villain Artists (SSOVA, to save you the mouthful).
What we loved most about the show (aside from some pretty sick art) was the added originality. The LAIDBARE exhibition had an interactive illustrative demo where people who had come to support could get involved with the exhibition and show their own artistic side. Check out the photos below if you didn't get a chance to head down yourself.
Another great thing to come from the collab was this cheeky little piece that Bareface created especially for Amigos. Using the Amigos bottles to make a wicked headdress and our bottle taking centre stage in the piece it was a cool way to tie us personally to the exhibition. The frame is hand painted and also features our logo which we massively appreciate and it will hang proudly forever in our office. Check below to find out some extra details about BareFace
How did the name Bareface come about?
The people I was fanatic about growing up had an air of mystery about them, they had a sense of awe and wonder. Nowadays we live in a world where being accessible aids your success. We are in a sharing culture, putting everything out there for the world to see. I wanted to create an identity that was mysterious and made you question what it meant.
The logo is literally a bare face and they say that the face is the mirror to the soul, but in this "selfie" culture we live in are we really sharing our real selves? Or just what you want people to see? What's interesting is that when I posted my logo on walls around London using a technique called Wheat pasting, where you create your own glue by mixing flour and boiling water, people would draw in them and send them back to me on social media so it's also become a canvas for collaboration. These drawings became more of a true reflection of how they felt at that moment rather than a sultry selfie. Accidentally this became the true connection to my art, through collaboration.
Social links
BUY MY LATEST ART PRINTS http://www.barefaceart.bigcartel.com
Watch me: https://vimeo.com/bareface
Follow my Instagram: bareface_art
Tweet me: @barefacetee
Follow my Blog: http://barefacetees.wordpress.com/